All Natural Anti Ageing Skincare Recipe Book- Full Review
Now don't get me wrong, I'm a massive fan when it comes to my skincare products.
I do masses of research to find out which ones are the absolute best for which certain skin concern based on clinical evidence but the more research that goes into a product and the higher the quality of the ingredients that go into them, this does start to reflect on the price of the products.
I fully respect and appreciate not everyone can or wants to spend say £70 on an anti ageing serum so I decided to look into lower cost options that our skin could still benefit from when I came across this all natural anti ageing skincare recipe book.
So many of us are actually trying much harder in our every day lives to get back to nature more and more.
I know I am, I'm definitely trying to eat less processed foods, use less plastic and fewer chemicals so why should it be any different with our skincare?
Naturally Skinsational by Sue Dolan
$19.95 currently on offer at $9.95
Guarantee 8 week money back
E-Book
Bonus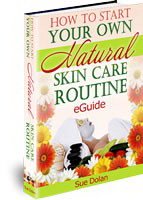 It also comes with the bonus PDF version of the "How to Start Your Own Natural Skin Care Routine" eGuide featuring a special chapter on natural homemade treatments for these three common aging skin conditions:
Chronic dry skin
Acne
Rosacea
About The Author
Sue Dolan M.Ed, is a researcher and instructor on anti aging skincare and facial rejuvenation for the Skin Care Resource Centre and expert author on ageing skin concerns.
What's Is Naturally Skinsational About?
The idea of this E-book is to provide you with amazing recipes to be able to make your own anti ageing skincare out off what ever you would normally have in your own fridge, fruit bowl or window box.
What I love about using the recipes to make your own anti ageing skincare from Naturally Skinsational is you are going to know exactly what you are putting on your skin and the cost of your skincare is going to be minimal.
So if you're on a budget but you care about ageing and you still want to treat your skin naturally, this is perfect!
Sue does actually seem to know her stuff when it comes to the skin and ingredients, just like when you shop for your anti ageing skincare you will hear certain words and ingredients been thrown about like anti oxidants, vitamin C, peptides and retinol and that's because they all do a certain job within your skin to either protect it, boost collagen or increase cellular turnover to keep it looking radiant and reduce the appearance of wrinkles, but what Sue has done is find the natural ingredients with these same properties to have the same beneficial effect as an expensive serum might have but you can make yourself for just pence.
Does Making Your Own Skincare Actually Work?
This is something I would certainly question, you're certainly not going to get the benefits of all the 100's of years of scientific research that goes into perfecting some of these beautiful medical grade products.
For example Vitamin C when applied topically to the skin is 20x more effective at supporting our collagen production and antioxidant protection than taking orally, however it must be in the form of L-Ascorbic acid and at a therapeutic dose of 10-15% it is also a very unstable ingredient meaning once it is put into a product it will almost immediately start to degrade so an important delivery system is needed to keep the L-ascorbic acid fresh otherwise it is going to be completely useless to the person who has bought that product.
I only know of one brand that can offer a product with Vitamin C in it with all of these components and it's due to that reason it retails at £149.
I do sell it in my clinic because I believe it's an excellent product however Sue makes a very good point when she says,
"How about squeezing an orange, grapefruit, lemon or lime instead?
After all they are fresh, rich in vitamin C, have powerful antioxidants that not only repair but protect the skin. All at the peak of their potency.
Well, it's quite true that vitamin C provides the skin with valuable antioxidants that not only help repair but to protect the skin from future damage.
BUT, if the vitamin C is not at the peak of its potency it unfortunately will have little or no effect."
Naturally Skinsational is jam packed full of recipes full of beautiful natural ingredients to make your own anti ageing skin care that I'm confident she could argue it's equal benefits to everyone active listed on any top cosmeceutical brand!
Here's a review from someone that's used it
Final Thoughts
When I first looked at this E-book I must admit I was a little sceptical but it has to be said it has definitely won me round.
The recipes are really easy to follow and there's plenty of them too, more than 150!
I really liked the special occasion masks, you can just whip up a firming mask whilst not even having to leave your own home.
I think it's great to be able to use what is already available to you every day in our own homes.
After all, the majority of all the expensive ingredients in our product all derive from natural sources so why not go back to basics, save yourself some money whilst protecting the environment at the same time. It definitely gets my approval.
So if you want to give some of these recipes a go you can Click Here to get your copy!
Just make sure you send me some comments with your favourites.
If a purchase is made by clicking on some of the above links I may make a small commission. Read full disclosure.